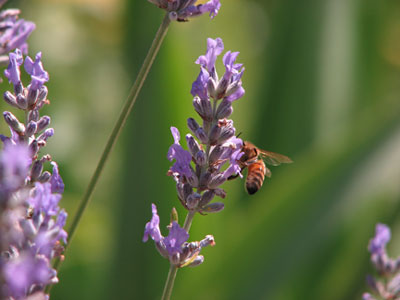 Body Care Products
At Lavender HIlls Farm, we use the most natural ingredients we can. Botanicals from our gardens and fields are infused in oils and blended with golden wax from our honeybees and pure essential oils that promote healing. Some of our friends and family members who have extreme allergies are our most faithful customers.
Mindfully produced . . . naturally!

Therapeutic Hand Salve


The skin-soothing properties of calendula have been known for centuries. Throughout summer, we gather these golden flowers to infuse in an olive oil base. Liberal amounts of beeswax, lavender essential oil and vitamin E are added to create a salve that soothes and protects dry hands, feet and face.
(Unscented available too.)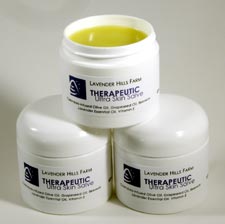 Therapeutic Hand Salve
60ml Price: $15.00
Calendula infused Olive Oil, Beeswax,
Lavender Essential Oil, Vitamin E
Propolis Plus
Many people experience the frustration and discomfort of several skin ailments like eczema and psoriasis. Propolis Plus is a blend of botanicals and oils that have specific properties in them that have been used historically to help with red, itchy and irritated skin.
Starting in the spring, we gather chickweed, red clover and calendula from our fields and gardens and make the olive oil infusions that combine to make this truly unique and soothing salve. Propolis is the resin collected by the bees from trees and plants that they use to plug holes in the hive as well as sanitize the colony. It has proven abilities and properties that heal an array of ailments. Though we can make no claims for its effectiveness, our customers can and do. (testimonial)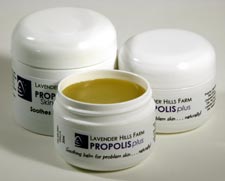 Propolis Plus
60ml Price: $25.00
30ml Price: $15.00
Calendula, Red Clover, and Chickweed infused Olive Oil,
Bee Propolis, Beeswax, Neem Oil, Tea Tree Oil,Vitamin E
Lip Balm


Did you know that the mineral oils used in many commercial lip balms take moisture OUT of your lips and promote dryness? Stop LBA (lip balm addiction) and give it up to the bees.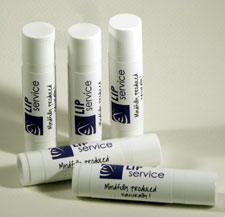 Lip Balm
Price: $5.50
Calendula infused Olive Oil, Castor Oil,
Beeswax, Sweet Orange Essential Oil, Vitamin E
Glycerine Soap


Using a glycerine soap base, we've added wildflower honey for additional moisturizing, and a strong helping of lavender essential oil and vitamin E.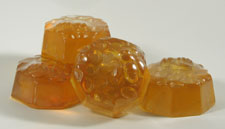 Honey Lavender
Price: $6.00